Urban Roots Youth-Run CSA Program!
Consider your membership for fresh, seasonal, St Paul grown vegetables!
If you want fresh local produce and believe in our important work in transforming the lives of youth through learning, community action projects, hard work and connections to the environment, then Urban Roots CSA is a great match for you!
The Market Garden Program at Urban Roots teaches youth practical growing skills, entrepreneurship, cooking, healthy living and community building. Under the guidance of our Market Garden Program Managers, youth grow, harvest, wash and distribute thousands of pounds of produce each season from several East Side production sites. All youth in our internship programs are paid to carry out meaningful, engaging work.
For the last 21 years, we have grown high quality vegetables, herbs and flowers..
In the 2017 season, the Market Garden Program grew over 13,000 lbs of produce and worked with over 700 youth and 400 volunteers in the field work and production of fresh food. Joining our CSA is a way for our growers and our community members to connect and support a local sustainable food system. A 'Community Supported Agriculture' is a model in which a group of individuals contribute to the shared risks of farming in exchange for a share of the crops or other agricultural products. We have adapted our model to ensure that we:
• Sell produce at market value
• Include a donation in the cost so that we do not undercut other local commercial growers
• Ensure quality learning and engagement for the youth who make the CSA happen
• Equitably share and distribute excess produce to our youth interns, their families and hunger relief efforts
By becoming an Urban Roots CSA member, you support the work and mission of Urban Roots and directly and significantly grows opportunities for youth and community members on the East Side of Saint Paul.
Urban Roots members enjoy the benefits:
• Delicious, local, fresh vegetables and herbs grown organically
• Weekly newsletter featuring recipes, crop info and intern stories
• Invitations to all our events and happenings, and opportunities to participate
• Knowing where your food comes from and who is growing it
• Knowing you are supporting much more than growing vegetables
What's in your share?
The Urban Roots CSA share is designed for people who enjoy local, organically grown produce and would like to support great youth and a great youth organization. The share is a 5/9 bushel share, best designed for an individual, couple, or a family that still enjoys shopping at other markets. The youth grow over 50 varieties of vegetables and herbs, and occasional flowers, for the CSA members during the growing season. Each box will contain at least 6-8 different types of produce with the quantity increasing in size as the season becomes more bountiful. Types of produce in your share may include: lettuce, kale, beets, carrots, beans, tomatoes, garlic, onions, radishes, eggplant, cucumbers, potatoes, peppers, apples, unique salad greens and more! Herbs include: basil, sage, thyme, parsley and more. We grow a great combination of heirloom crops with unique and flavorful qualities and standard hybrid varieties for production, cooking and canning. We practice organic growing methods, use no synthetic chemicals or fertilizers and cultivate the crops with the highest standard
of care.
SIGN UP NOW: TWO OPTIONS
Pick up information: Our CSA runs June-October.  Shares can be picked up at Mississippi Market, E 7th St on Wednesdays after 3pm and are available until 12pm the following day.
10 week – Summer Garden Share – $250 
$20 a week for local, fresh, youth grown produce and $5 per week as a contribution to support the Market Garden Program.  $50 of your share will be a tax-deductible donation. 
16 week – Extended Garden Share – $400
$20 a week for local, fresh, youth grown produce and $5 per week as a contribution to support the Market Garden Program.  $80 of your share will be a tax-deductible donation. 
Payment options:
• Pay in full when you sign up, $250 Summer Garden Share or $400 Extended Garden Share via Paypal or check.
• Pay half when you sign up and the other half by 

April 1st

, two installments of $125 for a Summer Garden Share or two installments of $200 for  an Extended Garden Share
Send a check by mail with contact info to:  
Urban Roots, Attn: CSA Membership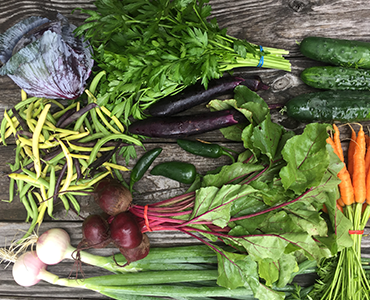 THANK YOU FOR YOUR SUPPORT AND WE LOOK FORWARD TO SHARING THE HARVEST WITH YOU THIS SEASON!