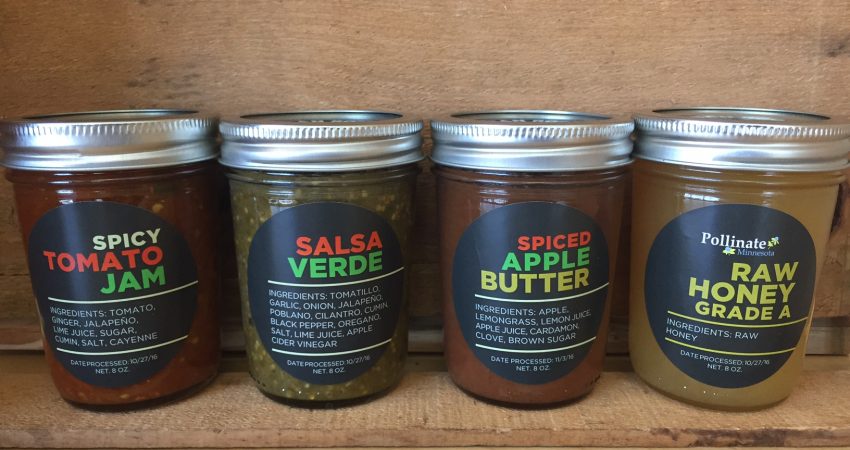 At the end of each growing season, interns and staff at Urban Roots develop and process preserves to sell in our Market Garden Program, long into the winter months. It is a great way to utilize surplus, late-season harvests from our gardens with crops such as heirloom tomatoes, poblano peppers, jalapenos, garlic, onions, apples and more. With garden flavors highlighting each recipe, we source-in citrus, vinegars and spices to transform each product into a delicious small-batch preserve. We source organic and sustainable products and this year, in order to increase production of our apple butter beyond the apples grown in our small orchard, we purchased local, tart apples from Hoch Orchards in LaCrescent, MN. Another exciting new product for sale, sourced from our Conservation Program hives……..for the first time ever……Raw Honey! We partner with Pollinate Minnesota to manage urban honeybee hives at our office demonstration site, utilizing the hives as an educational tool across all three programs.
This year's tasty, small-batch preserves are: Salsa Verde, featuring roasted tomatillos, poblano peppers, garlic, onion and cilantro with a tangy lime and pepper kick. Next up, Spicy Tomato Jam, featuring heirloom tomatoes, serrano peppers and ginger with a spicy, sweet flavor. Our Spiced Apple Butter features tart apples, cardamon, clove and brown sugar for a sweet, fruity, spreadable treat! The Raw Honey has been hand-processed on site and is Grade A for amazing!
The Market Garden crew sells our products at the Mill City Farmers Market Winter Markets through March. If you are interested in purchasing our products, the market would be a festive stop to pick up some Urban Roots preserves and other delicious local foods from a variety of market vendors (full vendor list available on the MCFM website). Winter Market dates are Saturdays, from 10am-1pm on the following 2017 dates: 1/14, 1/28, 2/11, 3/4, 3/11 and 3/25.
For those interested in purchasing preserves before the holidays for gifts and entertaining, we will have two open office dates on December 19 from 9am-1pm & December 21 from 1pm-5pm for you to pop in and shop! Please call our number on the front door when you arrive. We accept cash, checks and all major credit cards for payment. Happy eating this holiday season!
Read Blog Detail
Here's a quick look at two days that exemplified the journey of our young Metro Deaf School entrepreneurs, who have been engaged with us since this last spring through their job training program, learning and building job, business, and agricultural skills. This fall, they engaged in a complete farm to table experience at Urban Roots. Speaking with great authority, the students then taught their younger classmates about their Urban Roots experiences in our Market Garden, Conservation and Cook Fresh programs.
One chilly morning this October, students began the day harvesting dill, preparing it for sale, creating an invoice and then delivering it to the restaurant kitchen at Cook St. Paul. We were greeted by head chef and all-around-great-guy, Taelyn Lang. He took the time to show us around his kitchen and give a little history of Cook St. Paul. Homemade buns were baking in the oven and their signature Korean hot sauce was being stirred in a giant mixer. We learned how they make their yogurt in house and that they butcher a whole pig every two weeks. After the kitchen tour, we walked down the narrow back stairs to the dining room, where we were seated with other restaurant guests to enjoy a meal that incorporated the fruits of our labor. Among the delicious entrees, the students ate cheddar leek scones and an omelet with Serrano chilies. The chilies and leeks were also harvested, washed and packed by the students. Students ended the meal with full bellies and presented Taelyn and the waitress chocolates they had made in their entrepreneurial class.
The story continues on a crisp, sunny Friday in November when Metro Deaf School brought their whole school for a volunteer event. A table full of warm cinnamon rolls and bacon-egg-jalapeno rolls (made with jalapenos grown in our gardens) from Cook St. Paul greeted students under a golden Honey Locust tree. Students described the Urban Roots Market Garden and Conservation programs to their classmates, expressing great pride, ownership, and knowledge about their work with us.
We spent the morning cleaning up Dellwood Gardens and preparing the garden beds for winter. All 25 students pitched in and worked to the best of their abilities. In the afternoon, the school worked with Conservation staff at the DNR site collecting trash. At the end of the session, we were joined by a Conservation Officer who spoke with the group about career opportunities with the DNR.
Students returned to our demonstration site and sampled watermelon radishes prepared with sesame oil and sea salt. They wrapped up their volunteer experience with Urban Roots with a "shopping spree," taking home the vegetables gleaned during the garden clean-up. Students quickly filled their bags with veggies, and returned with smiles, asking to come back to volunteer the next year.
Read Blog Detail